XENOgel®
Tech­­no­logy
hair removal
The most modern TECHNO­LOGY in per­ma­nent* hair removal with light | XENOgel®
Effec­tive per­ma­nent* hair removal with light
XENOgel®: many years of experience in the field of permanent* hair removal are in the development of this special technology. It is used for a medical removal of body hair. Due to research and modern technology it has been possible to revolutionize permanent* depilation.
Say goodbye to annoying shaving, waxing and epilation, but still enjoy the feeling of silky-smooth skin. A clearly defined result, but the methods for achieving it are divers. Haarfreiheit offers you all common technologies.

The latest techno­logy for perfect results | XENOgel® Techno­logy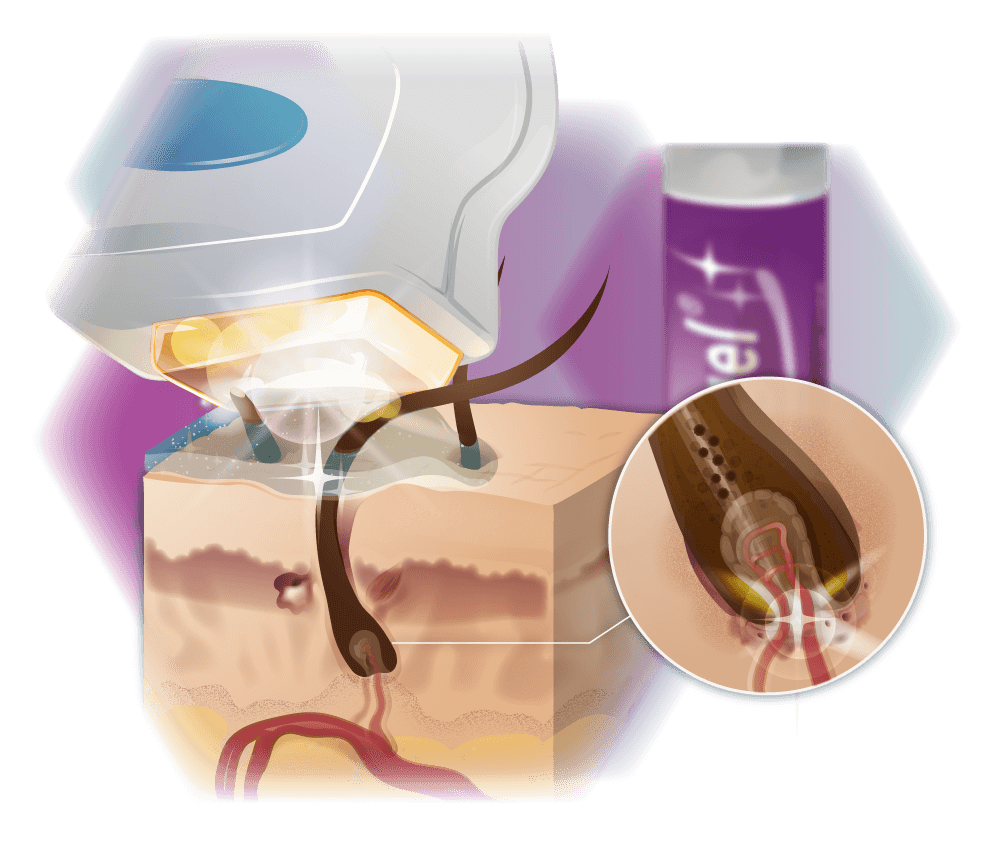 The special feature of the XENOgel® Techno­logy
The latest techno­logy and crystal gel
The most modern type of permanent* hair removal is the depilation by laser or light. The technologies differ considerably. The XENOgel® method is one of the most advanced techniques for permanent* hair removal. The most modern generation of photoepilation systems (SHR stands for "Super Hair Removal") is combined with a specially developed crystal gel. This increases the effectiveness of the treatment. The reason for this is that the crystal gel optimizes the effect of the light.
Com­pa­rison with other methods
Older technologies as the IPL method ("Intense Pulsed Light") only affect the hair root via the melanin in the hair. Since this dye is contained in the skin to a certain extent, it will get heated as well. Due to the lack of melanin in grey and light hair those cannot be treated adequately with older methods.
Proce­dure
With the XENOgel® method only 50 % of the energy of the light is absorbed by the melanin in the hair. The other 50% affect the stem cells, which produce the nutrients of the hair root. The proteins of the stem cells are denatured by the treatment, whereby the nutrient supply of the hair root is sustainably prevented. Therefore, hair cannot regrow and falls out – forever*.